Description
LUMINOUS Pure Sine Wave Inverter for Home, Office, and Shops with Advanced LCD Display Optimus 1250 Pure Sine Wave Inverter Pure Sine Wave Inverter
Inverter Type: Pure sine wave output ensuring the safety of your appliances

VA Rating: 1100VA; Peak Load: 924W; Output Voltage: 220V (inverter mode)

Display: Advanced LCD display which shows inverter battery performance statistics including – battery charging time, Backup time, percentage load running on the inverter, fault indications, and many more

User settable Controls: Set charging current between (8A-18A) for optimized performance; set output voltage between (200V-240V) to optimize between Longer Backup time and Performance; Eco and UPS mode selection.

Fast battery charging: Low voltage battery charging begins from 95V and fast charging from 120V input supply voltage

Battery Compatibility: Compatible with 1 x (12V) with a capacity between 80 Ah-220 Ah battery. The inverter supports all types of batteries such as flat plate, tubular, and SMF which need to be purchased externally

Safety for your home: Bypass switch to restore input mains in case of a fault in an inverter, Protection features and alarms on Overload, over-temperature, battery low battery, short circuit

Package Inclusions: 1N Inverter and 1N warranty card
Type: Pure Sine Wave Inverter
Voltage: 12V x 200-240V
Frequency: 0 x 50HZ
W x H: 27 x 21 cm
Weight: 12 kg
Description
Capacity : 1100VA /12V Rated Power : 924 W Supports 1 unit of 12V lead acid battery Display: State of the art LCD display which shows real time Inverter battery performance statistics Charging current: User settable charging current between (8A-18A) for optimized performance. Optimized performance: User settable Output voltage between (200V-240V) to optimize between Longer Backup time and Performance Fast battery charging: Low voltage battery charging begins from 95V and fast charging from 120V input supply voltage Mode selector: Eco and UPS mode availability Safety for your home: Complete safety for your home with protection features and alarms on short circuit, overload, Over temperature and low battery and safety for your equipment's as it supplies grid like power to the connected load Battery Supported: Supports all Battery types (Flat, Tubular and SMF) and all battery capacities (80Ah-220Ah)
Product Description
You can keep your devices running even during power cuts with the Luminous Optimus 1250 Inverter. It has pure sine wave technology that ensures superior performance of the appliances and prolongs their life. This inverter features a smart LCD display that shows the time until backup and charging, as well as the option for Eco/UPS mode. Moreover, it offers a fast charging current of up to 18A, so batteries are charged quickly.
LCD Display
Featuring a smart LCD display, this inverter shows back up and charging time, along with the option of Eco/UPS mode, and displays the backup and charging time with Smart LCD display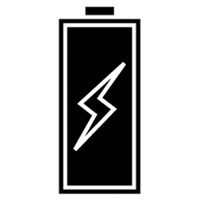 Quick Battery Charging
With its charging current of up to 18A, this inverter ensures quick battery charging.
Specifications
General
| | |
| --- | --- |
| Brand | |
| Model Number | Pure Sine Wave Inverter for Home, Office, and Shops with Advanced LCD Display |
| Battery Included | |
| Back Up Time | |
| Load Options | 4 Fan (60W) , 5 Tubelight (40W), 1 TV, 1 Cooler (200W), TV |
| Type | |
| Model Name | Optimus 1250 Pure Sine Wave Inverter |
| Solar Power Compatible | |
Output Features
| | |
| --- | --- |
| Efficiency | |
| Output Voltage | |
| Output Frequency | |
Input Features
| | |
| --- | --- |
| Input Voltage | |
| Input Frequency | |
Dimensions
| | |
| --- | --- |
| Width | |
| Height | |
| Depth | |
| Weight | |
Warranty
| | |
| --- | --- |
| Warranty Summary | |
| Service Type | On-site Manufacturer Service, Customer needs to call the nearby Authorized Service Center, service engineer will come to the site to get the product repaired or inspected. |
| Covered in Warranty | Manufacturer Warranty of the product is limited to manufacturing defects only |
| Not Covered in Warranty | Warranty does not cover any external accessories (such as battery, cable etc), damage caused to the product due to improper installation by customer. |